Loving Our Pets: Feeding Them Nature's Food
We are a family who love our animals. Our first experience of raw pet feeding was twenty-one years ago with our bullmastiff, Kismet. For the first two years of her life, Kismet was plagued by health problems.  The worst of these was a skin condition which would start as a rash and erupt into raw open sores. After endless failed attempts with conventional veterinary treatments (antibiotics, cortisone) we were advised to put our gorgeous girl down and end her suffering. In desperation we searched for a holistic vet.
The problem was simple – food!  The new vet told us to get her off pellets and onto real dog food  – as nature intended her to eat.  Her life was literally saved by switching her from an extremely expensive kibble /pellet dog food to the raw, real food diet…
more about our story
Why feed a natural diet?
The longer we have been feeding raw dog and cat food, the more the question has become "Why feed anything else?"
But, we remember how nervous we were in the beginning. Advertising had convinced us…
more about why we feed raw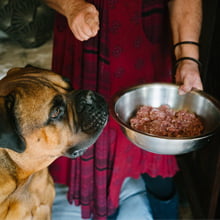 How to feed a natural diet
Give a Dog a Bone & Cat of the Day Dinners smell and taste delicious, so most dogs and cats instinctively take to them quickly. Some pets are fussier, but we have tips for them!
Experienced raw feeders suggest…
more about how to feed raw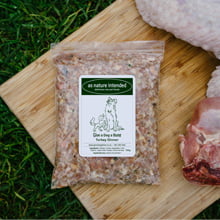 What's on the menu
A menu list of our wide range, and more – we want to tell you exactly what your pet is eating and why. Read about the ingredients we choose, the methods we use, the theories we trust, and what we suggest for you…
more about our menu
Feedback from well-fed friends is why we love what we do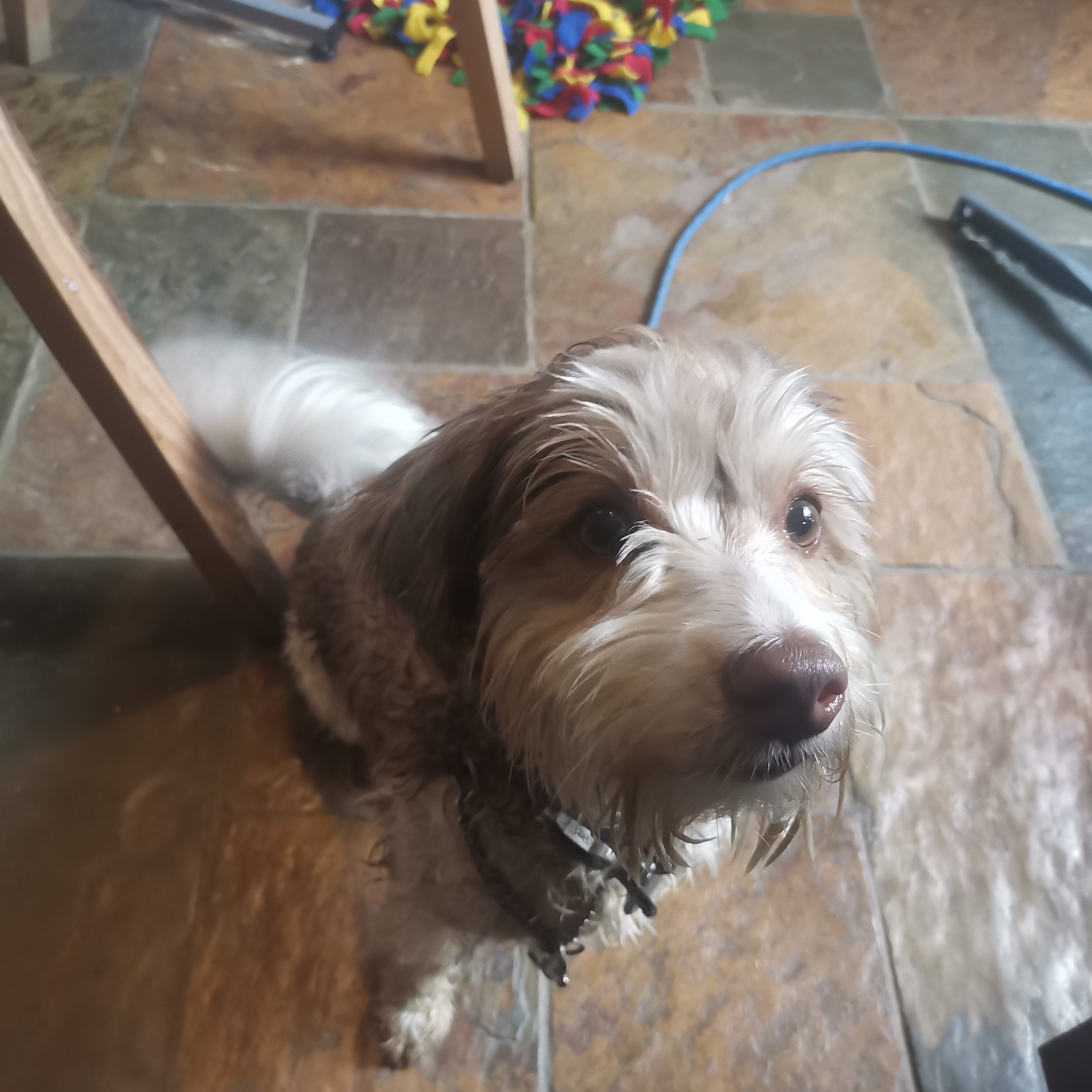 Harry
Harry couldn't contain his excitement when he came to collect his delicious dinners. Aside from training the ladies in the shop on when to give him treats, this gorgeous boy was smiling for any and every camera!
"When I sit, you say 'Good Boy', flash the camera, and give me a treat. Its as simple as 1,2,3 - I do tricks and you treat me"
A recent friend who stopped by the shop for some love
All thanks to your wonderful food, Ben has so much more energy and his arthritis pain is so much better. He's hardly ever on pain relief. Thank you!!
…awesome service, concept, food and treats – our fur kids are happy fur kids because of you!
Many thanks to Chris and your amazing team for the lovely donation of raw dog food. Many of the rehabilitated canines, "our four legged friends", have suffered from abuse and neglect, and your healthy ready-mixed raw meals will definitely give them all the nutrition they need to restore their health. We were also so impressed with the neatness and appearance of your pet store. We are truly blessed to be supported by such kind hearted people like you.
Can't say enough good things about this place and their service. I first encountered them whilst treating my dog with late stage liver cancer and the diet change helped immensely. Since then, all my animals are on raw and are healthier than ever! Coming into the shop is like visiting family, with genuine interest and care for my pets and myself. I am a true and happy advocate for this company. The health of the animals they provide for is obvious
My dog struggled with terrible skin conditions only a visit to the vet could treat, it was painful for him and costly for us! But within a week of transitioning him to this raw food diet, his skin conditions have disappeared. It has been almost 6 months now without a single flare up!
I have been ordering from them for 2 years now, and the quality of the food for my cats and dogs are very good. I am still very happy with them. My pets are happy, skin allergy free, and non-smelly pooh, compared to other raw meat brands. Thanks for being passionate about your work, and we can benefit from this
Wonderful people ! fantastic service and product ! Been with them 5 years now and have never let me down!
The best raw food supplier in South Africa…! Used them for years!!! Wish we could get a similar quality product here in the USA.
Good business to deal with. They are in it for the love of animals and you can see the owner Chris and his wife are passionate about what they do. Good quality raw food for dogs and cats and they also offer a delivery service which we don't use as we don't stay too far. Always happy to offer advice and make recommendations for animal health professionals. Also open on Saturdays until 12pm which is convenient. Highly recommended.
This is without doubt the way to go when feeding your pets. Good wholesome health food, just as nature intended!
Their products have improved the health of our two aging Daschunds remarkably, in fact they have a new lease on life. The staff are always friendly and efficient
Oscar had itchy, flaky skin full of scabs. His face was swollen, he was losing hair, and he was scratching himself raw. He is about six months old now and seems to have inherited sarcoptic mange and also has a very diffficult immune system. He is allergic to everything. Since being on the 'Give a Dog a Bone' raw chicken mince, combined with treatments, he has transformed from a frustrated itchy puppy to a playful, relaxed and very shiny dog. His skin condition is great. His interaction with us is different too. He's more obedient, affectionate and alert